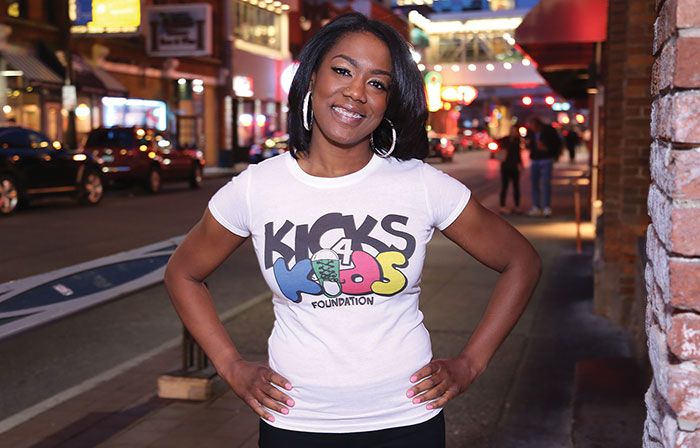 Ninety-nine grad helps students in under-served communities
You wouldn't think that something so basic as shoes would inspire a philanthropic movement. Yet, when 1999 Notre Dame Prep grad CheKeita Jones, who at the time was a teacher in the Pontiac school district, noticed that many of her elementary-school students wore ill-fitting, worn out shoes, boots and hand-me-downs, she thought there must be something she could do about it.
She knew a lot of "sneaker heads" and people with the wherewithal to help get these kids out of unfit footwear and into new shoes. So she launched a program called the "Kicks 4 Kids Foundation," with a goal of raising enough money to get these students sneakers they were proud to wear.
As Jones and the Kicks 4 Kids mission statement states, "The mission of Kicks 4 Kids is to alleviate one of the most burdensome social pressures for inner-city youth, which often leads to bullying. With support from our community stakeholders, we will be able to boost self confidence while providing one of the most basic needs."
For Jones, who now teaches in Detroit, being an educator was always on the horizon for her, even if at first she didn't see it.
"I graduated from MSU with a degree in supply-chain management in December of 2003," she said. "I then enrolled at Marygrove College to earn a master's degree in education." She said her family is full of educators and something must have told her that her true calling was in fact teaching, not supply-chain management.
"I got my first teacher's job within the Pontiac school district, my hometown," Jones said. "Working in an urban community, it quickly became apparent that it was more than just pencils and books. Low socioeconomic communities, minimal resources, and cash-strapped districts have left many students hopeless. The combination of all these issues and many others really hinders a child's educational experience."
So, since the spring of 2011, Jones has been tackling these issues head on, or should we say "foot-on," two shoes at a time.
"Kicks 4 Kids is my heart," she said. "Eventually, I would love to work solely on my nonprofit. I adore service and I've finally found my place in the world."
About Notre Dame Preparatory School and Marist Academy
Notre Dame Preparatory School and Marist Academy is a private, Catholic, independent, coeducational day school located in Oakland County. The school's upper division enrolls students in grades nine through twelve and has been named one of the nation's best 50 Catholic high schools (Acton Institute) four times since 2005. Notre Dame's middle and lower divisions enroll students in jr. kindergarten through grade eight. All three divisions are International Baccalaureate "World Schools." NDPMA is conducted by the Marist Fathers and Brothers and is accredited by the Independent Schools Association of the Central States and the North Central Association Commission on Accreditation and School Improvement. For more on Notre Dame Preparatory School and Marist Academy, visit the school's home page at www.ndpma.org.